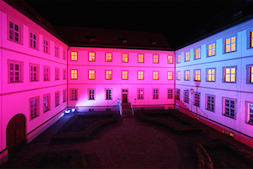 TONSPUREN - Discovering Music in Irsee
April 10–12, 2015
TONSPUREN – Traces of Sound; in German, the title of the new music project in the monastery Kloster Irsee bears a word pun: the German term for trace and track are the same word. The one meaning referring to "sound tracks" with their technical and digital connotation; the other one insinuating the poetic interpretations connected to "traces of sound" – and, thus, traces of history.
Following tracks, laying tracks, leaving traces – this is, therefore, what the new music project TONSPUREN pursues in Kloster Irsee. It is about more than merely a series of concerts. It is about the desire to discover, about curiosity and musical experience.
Unusual concert formats such as a lounge concert or a promenade concert set the course as well as the accompanying projects for children and young people, multimedia installations, light shows, educational and outreach projects, family formats, as well as culinary treats prepared in the kitchen of the monastery.
The concept of TONSPUREN is not bound to one genre. Every year a new artist leaves his or her musical traces at Kloster Irsee. The answer to the question, what kind of music will resound, can therefore be found in the artistic profile of the respective composer - in his own personal search for clues and traces.
After Claudio Puntin and Henning Sieverts, the Berlin-based composer and guitarist Marc Sinan takes over the role of composer in residence in the year 2015. The music written for Kloster Irsee will be rehearsed with international soloists on-site in the week after Easter.